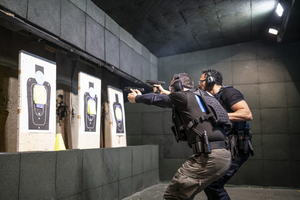 Location: South Kent Sportsman's Club (SKSC)
Address: 2536 140th Ave, Dorr, MI 49323
Cost: $230 Non-Members, $195 Members SKSC 
In-Class Time: 4 Hours
Total Range Time: 4 Hours
Capacity: 12 Students
Course Goal:
The Advanced CPL class provides advanced training in firearm use and manipulation. This class is 8 hours long and is a certified course recognized by the State of Michigan. Class room portion consist of a power point presentation and fry fire exercises. These are pre-qualifiers for the live fire range portion of the training. The instructor will have each student safely perform all the steps needed prior to the live fire course. The range session requires 300 rounds of ammunition using techniques taught in the class room portion.   
Safety is a critical aspect of all classes taught by Tyburn Tactical. Any unsafe or disruptive behavior in class or at the range will result in that person being told to leave and no refund for the class will be given. The instructor has sole discretion on determining if you have engaged in unsafe or disruptive behavior.
Click here for more class information: